2021 Golf Instruction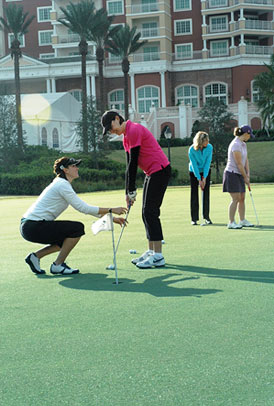 Golf Instruction with Jordan
Jordan believes that with solid fundamentals and some confidence, everyone can improve and play their best golf. With the use of multiple types of technology, being video analysis or launch monitor use, Jordan takes the time to understand your individual goals and learning styles. Jordan has over 20 years of experience with competing, playing and working on game improvement herself. She understands the struggles and the journey that game improvement involves. The journey should be an exciting time, not an overly frustrating and disappointing time! She will help make the process of reaching your individual goal(s) easy to understand and work with you to create a training program you can commit to and enjoy the ride!
Some students will benefit from video analysis and mechanical changes while others need basic fundamentals and a more "athletic or feel based" learning style and practical training. Many people fall in the middle and Jordan utilizes a circuit-style training session where different drills and the use of technologies are utilized to ingrain new and more repeatable movements.
Every student is different and each person will have a different model of instruction. As an athlete herself, Jordan is well aware of physical fitness training to improve flexibility and strength as well as some limitations or weaknesses students may have. As a Titleist TPI Certified Instructor, physical assessments are vital to any golf improvement program. If a serious injury or physical training program is desired, Jordan has a team of specialists that can help you with your golf improvement journey.
Your Personal Goals Emphasized
Whatever your goal may be, or what level you are at you will learn a more repeatable motion...and then CONFIDENCE will come!
Be more comfortable playing with other people

Lower Scoring Average / Lower Handicap

Improve Consistency

Improve Short Game

Have More FUN!

Get "Competition Ready"

Drive the Ball Straighter

On-Course Strategy